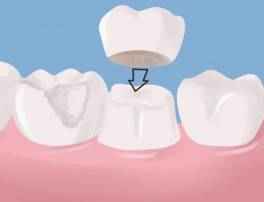 Teeth crowns and dental implant solutions
Genesis Dental are family dentists who specialise in a range of oral health services including crowns and implants. The perfect solution for creating effective support if you are missing teeth.
Dental implants have several advantages as they bond to your jaw, providing strong support for your surrounding teeth, and they prevent gradual bone loss. A dental implant is basically a root replacement, which is then crowned with a natural-looking tooth. This tooth-shaped cap is screwed onto the titanium root, which is biochemically pure and allows for easy integration with the bone. This means your body has far less potential to reject the implant.
The dental crowns are made from a variety of materials such as ceramic or porcelain, which is fused to metal, Zirconia or milled crown, all of which are made to look exactly like normal teeth. They are permanently secured to the jaw, thereby preventing the jaw from losing density, shape and strength, as it bonds to the titanium root. It's a completely safe and highly effective practise that has proven to work for patients across the world.
Teeth crowns looked exactly like your natural teeth and are screwed onto the titanium root. The crowns allow for the full ability to chew and stops the bone degeneration in your mouth that will eventually affect the shape of your face in the long-term. Over time as the jaw bone starts to lose density, a gap in the teeth will start to sag as the bone recedes, causing the face to change shape. This can be remedied with dental crowns.
Chat to us about replacing a single tooth or multiple teeth. Tooth crowns are suitable for people of all ages. If you are in the advanced stages of gum disease, these implants can prove to be a great help. The diseased roots and teeth are removed, effectively ridding you of any further gum disease problems, and fully restoring mastication and facial shape.
For those with receding bone, we offer bone augmentation procedures that rebuilds the foundation for us to put in an implant. Our highly skilled team of dentists and staff are on hand to assist you with all your implant requirements.
Don't despair if you have lost a tooth, several teeth or are dealing with bone degeneration due to no teeth, we can help. Contact us today for crowns and implants that will change and help your oral health.