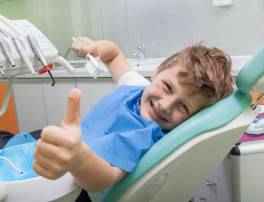 Providing highly qualified child dental care
Genesis Dental Care is a highly innovative children's dentist in Perth, specialising in dental care for families. Our paediatric dentistry services are designed to create a safe space for children to be treated for a selection of oral health care issues. Children's dentists, Dr Christopher Cunningham and Dr Shannon De Marie, are both highly experienced in working with infants, children, and adolescents who require and extensive range of dentistry.
Children start to get their primary teeth from the age of six months and the process for all teeth to erupt can take up to eight years. These are called 'milk teeth' and their makeup is different to adult teeth. They have less dense enamel, making them susceptible to problems if not taken care of correctly. The healthy development of roots and adult teeth are all integral to long-term oral health.
We can help your child establish good dental habits. Our wide range of child dental services include:
X-rays
Fissure sealants
Full oral hygiene
Check-ups
Restorative dentistry
Extractions
Gum guards
Biteplates
We strive to make the entire experience as enjoyable for children, as possible, with an aim to ensure that little ones are not subjected to invasive procedures unless it is absolutely required. If your child requires a complex dental procedure our team work carefully and gently with little ones to ensure complete comfort throughout the procedures.
Our staff are consistently up to date with the latest dental techniques in children's dentistry. You can rest easy with us. Our facility is equipped with state-of-the-art equipment is designed to assist our highly skilled team of dentists with our superior dental services.
As children's dentists, our goal is to educate children on the finer points of maintaining excellent oral hygiene for their futures. We make the dental experience fun as we chat to parents and children on the dental benefits of good diet and good strong teeth that will last them a lifetime.
Regular dental check-ups are essential for long-term health. Poor oral hygiene not only affects your oral health but can lead to a wide range of health issues, which you want to avoid. Brushing and flossing are an integral part of preventing problems. Children are prone to do their own thing when advised on health and hygiene, however, with a professional imparting the right dental advice, kids are more likely to floss and brush twice a day.
If you're looking for a children's dentist in Perth, contact us today. Our wide range of kids dental health solutions are geared towards ensuring your child has superior oral health for life.