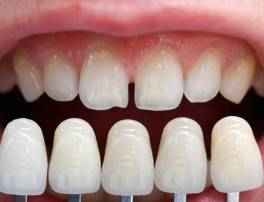 Always wanted that Hollywood smile you see in movies or magazines? You can achieve it with veneers. At Genesis Dental in Perth, we offer a range of dental services and treatments from basic tooth cleaning and extractions to root canals and even cosmetic dentistry. With the help of advanced technology and a great team who remain committed to industry trends and developments, we can give you the smile you've always wanted.
What are veneers and how does the procedure work?
Veneers are made up of either porcelain or composite material that is bonded over your natural teeth to make them more aesthetically appealing. The process entails partial removal of your tooth's surface. Your dentist will then take an impression of your tooth/teeth and send it to a dental lab where the actual veneers are created to fit each tooth and your mouth perfectly.
What problems can dental veneers fix?
Gaps between teeth
Crooked or misshaped teeth
Stained teeth
Porcelain vs Composite Veneers
While both composite and porcelain veneers try to achieve the same goal – the process is different. The procedure described above occurs when porcelain veneers are fitted, which is the more common option. Composite veneers on the other hand, are made up of resin material, which can be fitted in one consultation, and therefore cost less.
For both types of veneers, there are factors that are taken into account to ensure you are eligible for the procedure. This is done on a case-by-case basis, so get in touch with the friendly team at Genesis Dental to book a consultation for veneers today.