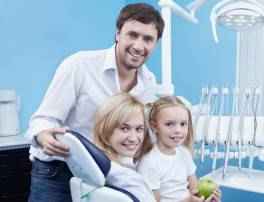 Young children have very different dental needs to teenagers and adults. The dental professionals at Genesis Dental always strives to provide comprehensive oral care for everyone in the family, whether they have baby teeth, permanent teeth, or dentures.
When should kids start seeing a dentist?
Your little one can start seeing a dentist after the first tooth shows up! This usually occurs after 6 months of age. It may seem premature but besides looking after teeth, we examine your child's mouth and gums too, which is essential for a comprehensive, well rounded dental hygiene routine. So book an appointment today!
Between the ages of 2 and 17 years, your child may be eligible for the Child Dental Benefit Scheme through Medicare. If you have received a letter from Medicare confirming your child's eligibility, please contact us today for a dental check-up.
Our family dentist will evaluate your child's dental health and will discuss any treatment your child may need. They might be eligible for paid basic dental services, capped at $1000 per child over 2 consecutive calendar years.
As a great kid's dentist, we pride ourselves on making them feel completely safe and comfortable from the minute the walk into our practice. We know that there is often a lot of anxiety associated with visiting the dentist, but we know just how to change those worries into smiles. Besides ensuring that your children feel safe, you too can rest assured knowing that your little ones are in safe, capable hands. Our team of dentists are highly-skilled and wonderful in dealing with dental care for children.
Dental Routine
We encourage children to start an oral routine as soon as possible. Teaching your child about flossing and brushing is an integral part of basic hygiene. There is a general rule of thumb that everyone should live by, not just kids, but it is great to get them into this habit early on. Have you heard of the 2-2-2 rule? Visit the dentist for a check-up twice a year, brush your teeth twice a day, for two minutes each time! This is a great little tip that will ensure you and your children maintain a good dental care routine.
As a well-known and established Perth family dentist, we care about your entire family. To learn more about our dentistry services for children and be sure to book a dental visit for your child today.